Johnson remains a fitness doubt for trip to Emirates Stadium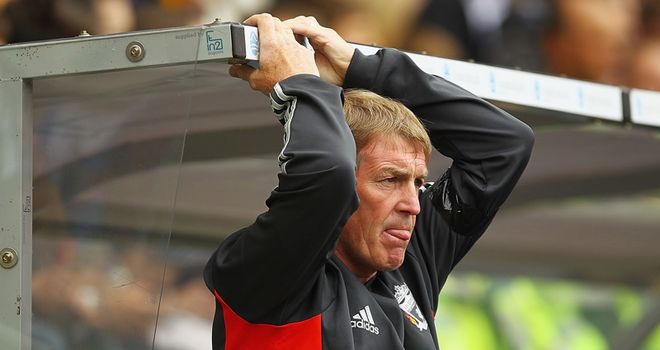 Dalglish: Linked with Shawcross, Cahill and Dann
Liverpool manager Kenny Dalglish has not ruled out more signings before the end of the transfer window.
Having already spent £48.5million on the arrivals of Jordan Henderson, Charlie Adam,
Stewart Downing, Alexander Doni
and Jose Enrique, there are still expected to be more arrivals at Anfield this summer.
A centre-back is thought to be a top priority and Liverpool have been linked with Stoke's Ryan Shawcross,
Bolton's Gary Cahill
and Birmingham's Scott Dann ahead of a 31st August transfer deadline.
Speaking in the build-up to Saturday lunchtime's match at Arsenal,
Dalglish
attempted to keep his cards close to his chest regarding the recruitment plans, but did not dismiss extra signings.
"Until the transfer window shuts, the most honest answer I can give is, 'I don't know'."
Kenny DalglishQuotes of the week
Asked whether Enrique could be Liverpool's final acquisition of the summer, Dalglish, who signed as manager on a permanent basis in May, is quoted as saying: "I don't know - it's the same as I don't know if that's your last question!
"I cannot answer it honestly. I suppose it's a little bit like last year when I was asked, 'when are you signing the contract?' or, 'have you been asked to sign?' - until the transfer window shuts, the most honest answer I can give is, 'I don't know'."
Potential
Meanwhile, ahead of the game against Arsenal at Emirates Stadium, Dalglish has confirmed Glen Johnson
is Liverpool's only injury concern along with the recuperating Steven Gerrard.
The Scot said: "I think there is only Glen Johnson who might be a doubt, but other than that everybody's relatively fit."
Asked about the progress Gerrard is making in his rehabilitation from a groin problem, Dalglish replied: "Brilliant."
Enrique was one of four players making their Premier League debuts for Liverpool in last weekend's disappointing draw with Sunderland, a result which Dalglish has insisted was not due to fatigue.
And the former Newcastle
full-back has impressed his new manager, who said: "He's a good player, he's got experience in the Premier League and he's settled into the way of life in England, so that's helpful to us.
"It's a position we had to strengthen. Young Jack Robinson has got fantastic potential, but we have to responsible with him. He's 17 years of age and to throw him in and expect him to play a full season would have been wrong - but he'll be there or thereabouts."
He added: "It's always helpful when you know the environment you're in and for us that was an important factor when we were looking for a full-back - somebody who has a knowledge of the game and the Premier League.
"He certainly has that. He's been here for four years, his English is good - it's better than mine and his football is better than mine as well! - so we're quite happy with the signing of Jose."
Source: http://www.skysports.com/story/0,,11669_7109404,00.html